No place like London
Saturday, 9 February 2008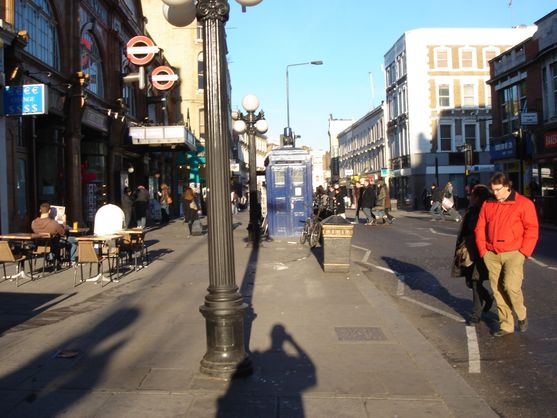 Well, after a long journey, I'm finally here.
I flew Qantas from Sydney to Hong Kong. Read a book most of the time. The inflight entertainment consisted of VHS videotapes projected onto a screen metres away,  like the entertainment on a coach to Goulburn. In 1990.
I had a window seat, but the aisle seat next to me was free. So I had more room than those rich bastards in business class, and I didn't have to clamber over anyone to get to the toilet. Result!
I tried to put up another post during my three-hour stopover in Hong Kong airport, but the wi-fi there was third-world standard, and I had left my power adapter thing in my check-in luggage. The business class lounge (thanks again, Calvin) was very nice, but I was determined not to be too jetlagged when I arrived, so I was uncharacteristically abstemious. The food was particularly nice, and I got to have a long, warm shower.
Hong Kong to London was on British Airways. I'm not sure how long it was: I spent all but the last three hours fast asleep, even refusing the first meal service. A free seat next to me again, but the aisle seat was occupied, so I had to clamber over a sleeping woman to get to the toilet. Having the window seat was well worth it, though. What's more spectacular than London at dawn?
British customs and immigration reluctantly allowed me into the country, and I went straight to the hotel in Earls Court which I had booked online. It's fairly comfortable and inexpensive, but grimly post-war and English. There'll be more photos later.
And what a beautiful sunny day it was! Glorious after a week of rain and sweaty humidity. You can probably see how blue the sky was in the photo above.
First I caught up with Angela and Joseph and their kids Alex and Elizabeth. They live in a beautiful house in East Dulwich, a lovely suburb in South London. We wandered down the high street, taking in a street market, visiting a fabulous deli and stopping off at my first English pub this trip. Mmm, warm English beer.
Then I met Peter in town, at the Borders in Charing Cross Road. Headed over to have dinner with Sarah and Gary. It was lovely. Gary was back from his exciting job in Cardiff, so I was lucky to catch up with him at all. Today he flies off to LA for a Doctor Who convention. Also there were some people I haven't met before: Paul, Simon and Debbie. Simon and Debbie were also off to the convention today; I'm hoping to catch up with Paul again later in the week.
An epic post. I'll try and make later ones more concise and exotic.