"Want some charlie, mate?"
Thursday, 21 February 2008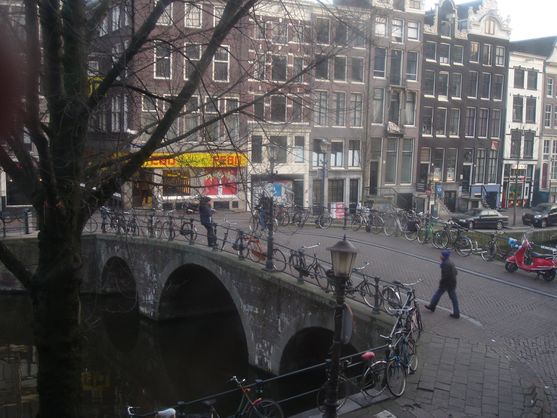 Had a great night last night. Went straight to the Leidseplein to check out all my old haunts. Instantly felt at home. It's great to be able to walk around a foreign city, confident that you won't get lost, and familiar with good places to eat and drink. In keeping with Amsterdam's reputation as a party town, I was in bed before nine last night. Feeling terrifically well rested now.
I'm staying in a hotel not far from Centraal Station, near Dam Square. I haven't spent much time here before. The area by the Leidseplein is genteel by comparison. There are lots more tourists here, and many more of the tourist-oriented businesses Amsterdam is famous for. There are sex workers in the window just around the corner. And I've been offered drugs on the street about five or six times, once as I was actually walking in the hotel door.
It all sounds a bit seedy, I guess, but I can't tell you how happy I was the moment I arrived. I've got lots of good memories of Amsterdam (most of which I intend to keep to myself), and I'm really looking forward to spending a couple of days here.