A kind of homecoming
Sunday, 9 March 2008
My hotel in Rome was right next to Roma Termini, Rome's biggest railway station. It's not the most salubrious part of Rome. I wasn't actually offered drugs, but a tall black man with dark brown teeth tried to sell me a watch once, and later shouted at me and pushed my shoulder when I carelessly trod on his friend's stock of pirate CDs, which he had laid out on a blanket on the sidewalk. And fair enough too.
The hotel itself wasn't the most salubrious hotel of the area. Groups of people used to huddle on the front step, to discuss how the drug sales were going, I imagine. And my room wasn't that great, with its tiled floor and freezing draught and unreliable hot water. I  had to yell at the bent and wizened old man at reception to get him to start the pilot light so that I could have hot water for a shave. I felt mildly guilty for several minutes afterwards.
So imagine my surprise when I arrived in Sorrento this afternoon, and found out that the hotel I had booked looked like this: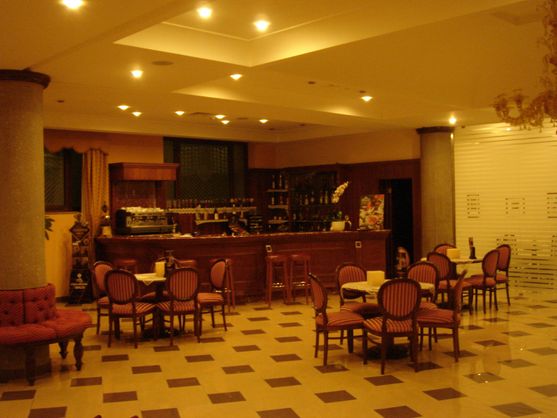 This is the lounge of the Ulisse Deluxe Hotel. It's cheaper than my hotel in Rome, but it's the only hotel I've stayed in so far that wouldn't give Calvin an instant aneurysm. There are sliding glass doors at the entrance and a toaster in the breakfast room. My bathroom even contains a bidet, for God's sake.
Sorrento itself is lovely and clean and safe. I've had a very relaxing evening here. Thank God I didn't decide to stay in Naples. Tomorrow: Pompeii.