Hello world!
Thursday, 16 February 2023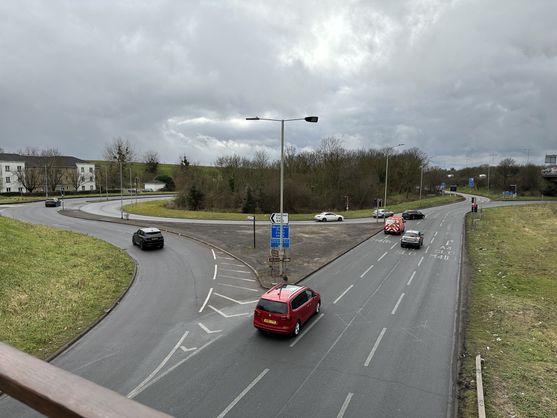 I'm in Slough.
Well, not Slough exactly. The parish of Colnbrook with Poyle, Slough. The Holiday Inn Express London — Heathrow T5. A boring hotel near the airport.
I'm flying off to Italy tomorrow morning, and I have to be at the airport before 5 AM. So Calvin — very thoughtfully — found this hotel and booked me a room for my last night in the UK. I'm excited about tomorrow's flight, but I'll be travelling by train for a few hours afterwards, and I won't be arriving in Sorrento until the afternoon. So a boring hotel is just the sort of place I need to be to chill for a few hours. Gotta get into a state of mind where I won't get cross tomorrow when I inevitably get lost at some point.
---
This is my first post, even though I arrived in the UK nearly two weeks ago. Normally I blog when I'm travelling alone, so that I have a record of the trip to read later. But the last two weeks (or so) I've just been too busy.
I don't really want to write about it all yet. But I had the best time. I stayed with Joe and his partner Mark in Eastbourne: I've been chatting with Joe daily since October 2020, and I finally, finally got to meet him in person. We recorded 11 podcast episodes together — including the latest episode of Untitled Star Trek Project. And we just hung out — eating, wandering around, climbing up Beachy Head, watching telly, talking. And we did some touristy things too. A pilgrimage to Leeds Castle, where The Androids of Tara was filmed in 1978. A trip to the Fitzroy Tavern in London to catch up with some Who fans and podcasting friends. A hilarious last night where we went to the theatre to see the new production of Relatively Speaking by Alan Ayckbourn.
Joe wasn't the only friend I met in person for the first time: there was also Si, Pete, and Conrad, who I've been podcasting and chatting with online for some time now. New people too: Steve, Chris, and Rob Valentine, who listens to FTE and who is very generous in his engagement with us on Twitter. And I caught up with some people I hadn't seen for a long time: Colin, Angela, and Simon Catterall and his partner Majed (who I was also meeting for the first time).
Huh. I said I didn't want to write about all this. I think that's because I don't think I can satisfactorily express how great it all was, and how grateful I am to everyone I got to see — but particularly Joe and Mark, who were so kind and warm and generous and so much fun to hang out with. I love you all. I can't wait to see you again (except Colin, who will be here in a couple of hours because he's flying to Copenhagen tomorrow and staying in this hotel tonight).