Sorrento things
Wednesday, 13 December 2017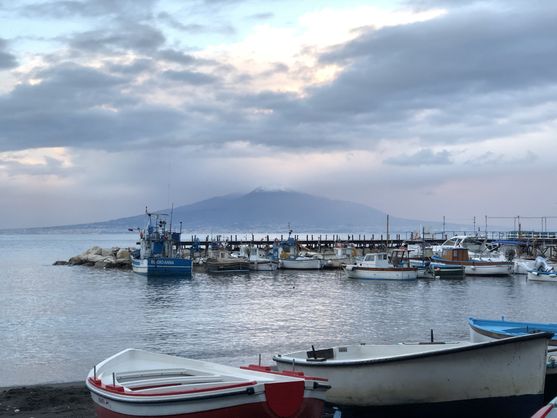 It's raining like crazy today, so I'm postponing my visit to Pompeii until tomorrow, which is my last full day in Sorrento.
I arrived here on 3 December. There have been plenty of day trips since then, but also a lot of relaxing and doing nothing. So, this post will be mercifully free of narrative. Instead, some Sorrento things.
Io non posso entrare
There are dogs everywhere here. They're allowed, or at least tolerated, in bars and restaurants. One woman was walking a dog in the ruins of Herculaneum; someone brought their dog into the Archaeological Museum in Naples.
And there are dogs freely wandering the streets. Last night I was sitting outside at a bar, when a dog wandered past and cocked his leg on a nearby fruit stall. The owner gently kicked the dog, who growled at him and ran off.
There's one grubby snaggletoothed dog who wanders around Tasso Square. He seems fairly confident in traffic, but every time I see him, I'm terribly anxious about him getting run over. I'm sure he'll be fine.
Christmas
It seems like middle-aged complaints about the length of the Christmas season start earlier every year. It's been Christmas for my entire trip, all the way back in London in November. But it's been crazy in Sorrento. Take a look:
This is all very sweet. The only annoying thing is the nightclub next to my apartment that plays Feliz Navidad loudly just once every night sometime late in the evening. Oh, and the horrific Christmas music that was playing throughout the main shopping area on Capri.
Uno spritz, per favore
It seems to me that Aperol only has only been a thing in Australia over the past year. Here it's everywhere. Even the Beginner's Italian course I'm doing on Babbel tells me that I have to have at least one spritz before dinner. And so I do.
Speaking Italian
My Italian is hundreds of years out of date, of course, and I've never actually formally attempted to learn it before. Now, for the first time, I've tried to give it a go.
The only thing is that my Italian is audibly terrible, and so everyone I try it on responds in English immediately. But still I persist.
More than once, though, I've received a verbal pat on the head for asking for the bill in Italian. Which is fine: I'll take literally any reinforcement I can get.
Food and agoraphobia
I've never told anyone this before, but I actually get slightly anxious going into a shop or a bar or a restaurant I've never been to before. I often have to wander around for ages before finding somewhere where I'm prepared to go in and eat. (It's even a thing at home, but then I have Calvin with me; given the choice, I'll always go to somewhere familiar.)
It's ridiculous, obviously. I've found lots of places to eat here; even the least expensive places have fantastic hearty food. The one time I screwed up the courage to go to a classy-looking restaurant and order from the specials menu, I ended up with a massive plate of gnocchi with gorgonzola and walnuts, which was like eating a giant tub of rancid wallpaper paste. I won't be doing that again.
Naples
Naples is kind of horrible, isn't it? I only spent one day there, last Saturday. It's glamorous, but filthy and rundown and vaguely threatening. I wanted to visit the Archaeological Museum, which was okay — full of things looted from Pompeii and Herculaneum.
The highlight was the Secret Room, to which children under 14 are admitted at their own risk. It's full of Roman erotica — frescoes of scenes from mythology, phalluses, tiny bronze dicks, and ridiculously obscene sculptures. Here's the highlight: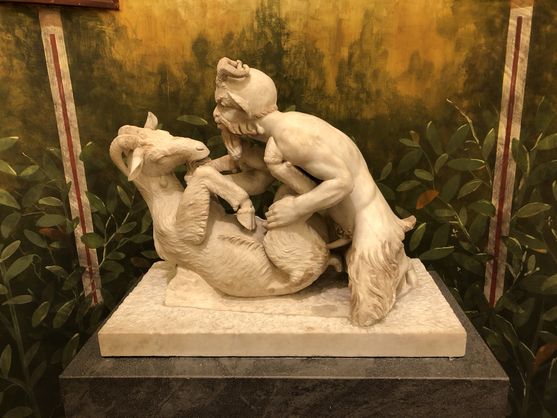 Leaving Friday
I'm catching the train to Bari on Friday, staying there one night, and then catching the overnight ferry to Patras. Two nights in Patras, not because there's lots of fun things to do there, but to give me the opportunity to repeatedly watch Star Wars VIII.
I'm going to go offline some time tomorrow, to avoid spoilers. I'll be back once I've seen the film a couple of times.
Until then, here's an inexpertly cobbled together photo gallery of Sorrento and the towns nearby. I'm off to have lunch somewhere I've been to before.
Reading: La Belle Sauvage, by Philip Pullman. Set 10 years before Northern Lights. It's beautifully written, wonderfully anti-clerical, and about a third of the way through, it's starting to get very tense.