Bari — Episode II
Saturday, 16 December 2017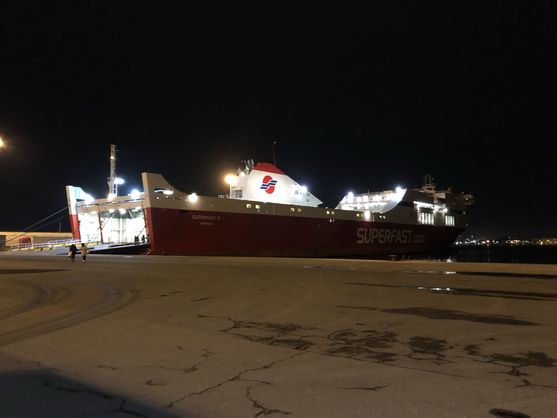 If you asked me right now to name my favourite Star Wars film, my answer, without hesitation would be Episode VII: The Force Awakens. It's the funniest of the Star Wars films, it has likeable, charismatic, well-drawn characters, and it carries on the overwrought intergenerational Skywalker saga in a satisfying way.
Plenty of people dismissed it as a remake of the original Star Wars film. Which it was, of course. But we hadn't had a remake of the original Star Wars since 1999, and we hadn't had a good remake since 1983. So 2015 needed a new remake of Star Wars to relaunch a the new series of films and to remind us that Star Wars isn't just about bored actors sitting listlessly on couches talking about trade embargoes.
More than that, though. After nearly forty years of Star Wars films and spinoffs, The Force Awakens understands what it's doing in a way that the original Star Wars really doesn't.
---
I'm in Bari right now, on a ferry romantically named the SuperFast II. I'm about to head over to Patras in Greece. It's the second time I've done this.
The first time was in 2008, my last long service leave. That time, Bari was not fun. My train arrived late, I had just over an hour to get to the ferry, I didn't know where the ferry left from, I had a crummy paper map, and I got completely lost in the narrow and slippery lanes of the old city. And it was probably raining. I remember being getting incredibly angry and flustered, which was a thing that happened a lot on that particular trip.
This time, I booked a hotel for a night. So, when the train arrived late, I just needed to walk a few blocks drop off my luggage and then go out for dinner. Totally relaxed. After dinner, I wandered down to the water and around the old city. On the way back, I found a nice bar and had a glass of a noxious liqueur called pugliese. It was nice.
I didn't need to check in for the ferry until 5:30 in the afternoon. I couldn't find anything pressing to do, so I explored the streets of Bari, got a beard trim, had lunch in the old city, found the seaside and wandered around there for a while. I ended up finding somewhere to sit and read for a couple of hours.
---
I've said this before here: at the start of this trip, I had only a few concrete plans. I had a hotel booked for the first couple of days in London, a flight booked to Amsterdam, another hotel booked for my last couple of nights in Athens, and then a flight from Athens to Bangkok at Christmas. (Thanks, Calvin.) I also wanted to stay in Sorrento for a while. But everything else was open. I could go anywhere or do anything.
And yet, this trip has pretty much been a remake of my last long service leave. Last time I explored the south of France a bit more and only stayed in Italy for just over a week. But otherwise, the itinerary has been the same.
It would be easy to be disappointed with myself. I've still never been to Spain or Portugal. I didn't go to Budapest or Trogir. Most of my time has been spent in places I've seen before.
But I just don't care. I explored lots of new places in Sicily and Greece on the Classics Trip in June. I'm meeting Calvin after Christmas: we'll be visiting Cambodia and Laos, adding two more countries to the growing list of places I've visited in South-East Asia.
And this trip has been so easy and pleasant. Most of my train trips have been about two hours long; none of them have been longer than four hours. I've enjoyed seeing familiar places, and finding out new things about them, and having new things to do. Venice, Naples, Sirmione and Antibes were all great. And I'm more relaxed and well-rested than I have ever been, I think.
---
I'll be staying in Patras for two nights. I don't know anything about Patras, except that there's a cinema there called the Odeon, where Star Wars — Episode VIII is screening in English. I plan to watch it at least twice. I'll let you know after that whether it's my new favourite.