God mode
Monday, 1 January 2018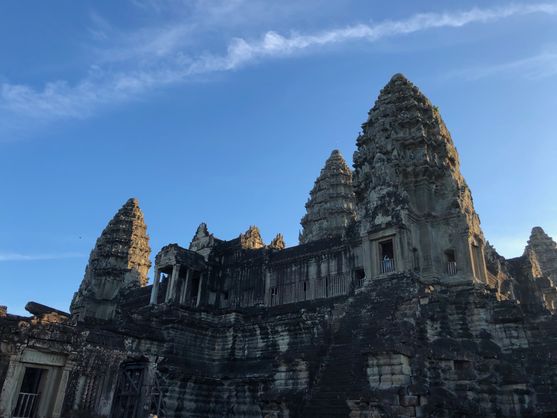 I met Calvin in Siem Reap on 27 December.
It had taken me two days to get there from Athens. A flight from Athens to Dubai, which was delayed a couple of hours due to fog in Dubai; a night spent in the First Class Lounge in Dubai, since it was too late to get to my hotel; a flight from Dubai to Bangkok; a night in the Novotel at Bangkok Airport; and then a short flight from Bangkok to Siem Reap.
Calvin is clearly much better at this holiday thing than I am. He used points to arrange our first class flights, and he used points to book us into the Sofitel Angkor Phokeethra Golf and Spa Resort at Siem Reap. It's a massive hotel, with a spa but no golf course, built in a sort of French colonial style. The staff say bonjour to you as you walk past, even quite late in the day.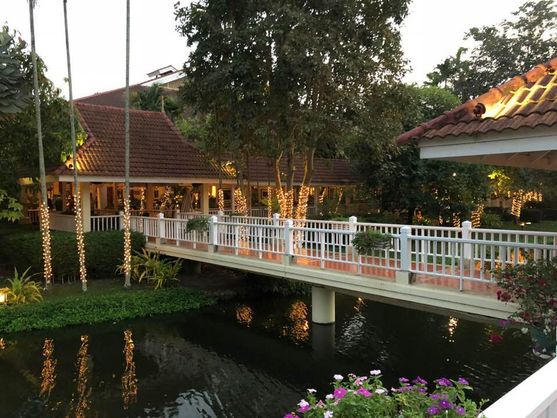 I met Calvin at the hotel, dropped off my luggage and immediately went on an informal tour of the city. Calvin had arranged it the day before with a tuk tuk driver he met at a temple he was visiting. We spent a few hours careening around the city, had lunch, and took a boat ride up the river Tonlé Sap to a floating village on the edge of a massive freshwater lake. For dinner, Calvin had made a reservation at a famous restaurant called Haven, which is normally booked up months in advance.
For the next two days, Calvin had booked a tour of the temples around the city. We visited nearly half a dozen on the first day, beautiful ruined temples, surrounded and covered by forest, massive and complex, covered in sandstone carvings. On the second day, we spent the morning at Angkor Wat, arriving before 5 AM and watching the sun rise behind the temple, surrounded by hundreds and hundreds of other tourists.
For me, 2017 was the year of visiting temples — in Sicily, mainland Italy and Greece — and I saw a fair number of temples in Japan in 2016 as well. Angkor Wat is the most impressive temple I have ever seen. Not just the size and scale, but the intricacy of the carvings, on nearly every available surface.
---
We're in Luang Prabang now. Calvin booked us a room in the Hôtel Sofitel Luang Prabang, a small resort hotel with only 24 rooms, which was the governor's residence a hundred years ago, then government offices, and finally, a prison. The swimming pool was probably installed after that.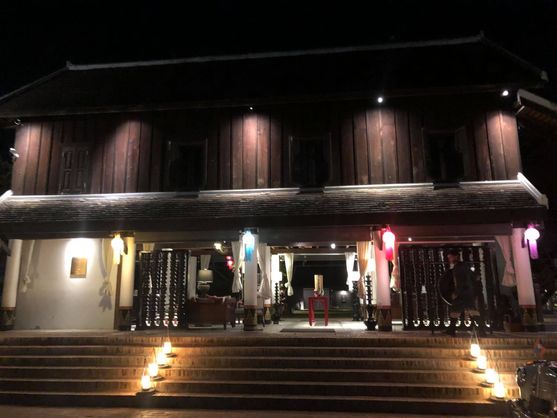 Luang Prabang is much smaller than Siem Reap — 55,000 people. It's touristy as well, but more in a hippy backpacker sort of way. That's slightly irritating, in so far as the streets are full of dreadlocked and tattooed young people wearing silk drawstring pants decorated with elephants. But it's quiet and relaxing. The food is good, both in the restaurants and at the side of the road. And there are fun things to do, but not so many fun things that we'll be running around non-stop until we leave on Friday.
Calvin organised a tour on our first day: a boat trip to visit a cave containing a thousand Buddha images, and a bus trip to a bear sanctuary and a waterfall. Today, New Year's Day, we visited as many temples as we could possibly find, and went to the night market to watch young people buying silk drawstring pants. Tomorrow, we'll be meeting some elephants. Calvin organised it.