Last Days
Friday, 12 January 2018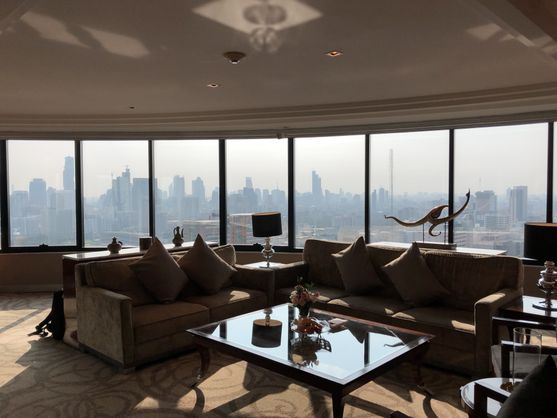 I'm writing this post from the Royal Suite at the Bangkok InterContinental Hotel.
It's the largest suite in the hotel. I'm seated at a glass coffee table in the lounge; there's a lavish entryway, a 12-seat boardroom, a kitchen, a massive bathroom with a sunken bath, a dressing room, and a bedroom larger than all of the other hotel bedrooms I have stayed in in Europe. In fact, I think this suite is bigger than all of those European hotel rooms combined. It's definitely bigger than our house.
"It's too big," said Calvin as we walked in.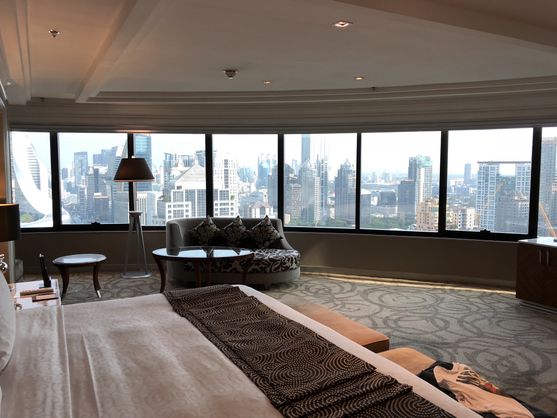 We arrived in Bangkok on Sunday afternoon. Calvin had spent a day or two here before meeting me in Siem Reap, so he took me to dinner in a busy fluorescent-lit local eatery. It had been cool in Luang Prabang: it was hot and muggy in Bangkok. The icy beer I had with dinner was magical.
When we woke up on Monday morning, Calvin's legs were covered in bites. In fact, he was driven out of bed at about 4 AM. Bedbugs, he said. We went up to the Club Lounge to complain, and they moved us to the next room so that they could burn the bed to the ground.
They offered us free dinner in one of the restaurants as compensation.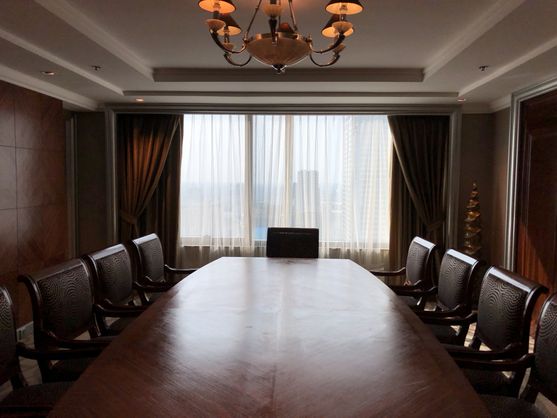 I think I've only been in Bangkok once before, in 2005. (Apple's Photos app tells me that it was 2004, but I remember having to miss some early episodes of Series 1 of Doctor Who, which means that it was April 2005. Shut up.) Calvin comes here every year or so, and came here frequently as a child; as a result, he isn't here to do touristy things.
Instead, he's here to eat, to shop, and to visit the family temple. We've been personally blessed twice — a ritual washing and another ceremony that involved a monk drawing patterns on our heads with oil, wax and some kind of powder. We've bought some Buddhas and candles and jewellery and had it blessed. We've taken the monks out to lunch. We went to a restaurant called Insects in the Backyard, which Calvin thought was superb, even though it just serves unimaginative Western food sprinkled with deep-fried bugs. And the hotel is at the centre of a massive conurbation of giant shopping centres, which we've wandered through for hours, eating and buying things. Bigger clothes, mostly.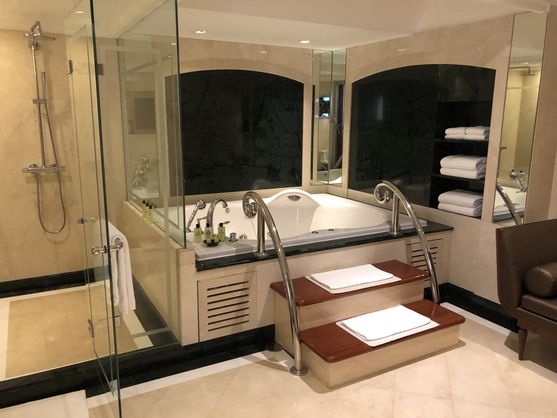 A couple of days ago, the toilet in the hotel room got blocked. I cannot honestly claim to be blameless in this matter: I've been giving the breakfast buffet a pretty serious workout every morning. Plumbers came to the room a couple of times to fix it, but with no lasting effect. And so they asked us to move rooms again.
Calvin was, of course, terribly annoyed. We ended up meeting some sombre and apologetic hotel managers in the Club Lounge, who told us how deeply sombre and apologetic they were, and invited us to call them at any hour of the day or night if we had any problems at all.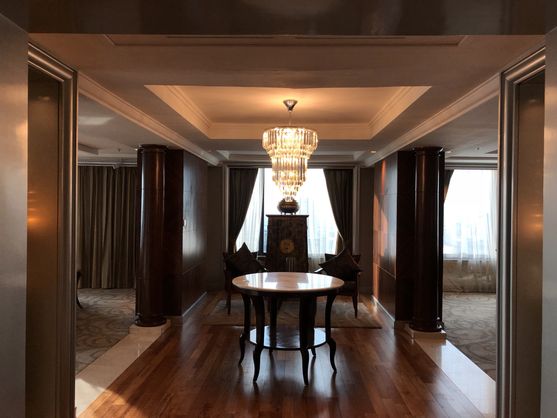 The toilet in our third room blocked this afternoon.
I went up to the Club Lounge to make a report, and then settled in to write a blog post. Before long, one of the sombre and apologetic managers came up to talk to me. He was dangerously sombre, to a degree that made me want to crack jokes and cheer him up. He said that we would have to move rooms again.
So here we are. I'm in the Royal Suite, writing a smartarse blog post; Calvin is wandering around complaining about the power points. Complimentary dinner tonight, hopefully followed by champagne in the bath. (Probably not, actually; Calvin is a hopeless prosaic.)