The Week and Pizza
Saturday, 25 February 2023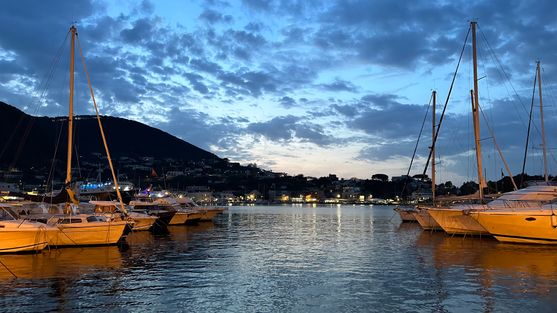 I'm writing this in the Holiday Inn in Naples, in a large hotel room, in a skyscraper, surrounded by graffiti and urban decay. Calvin booked the hotel for me — using points — after I decided that I would spend my time in Sorrento just relxing and that I would start my sightseeing the following week from Naples. And although this hotel is some distance from Naples' beautiful centro storico, it's very close to a train station that will take me wherever I need to go.
---
After writing my last post, I spent a couple more nights in Sorrento, and then I caught a train to Naples and a ferry to Ischia, which I have wanted to visit for years now. (There are ferries that go directly from Sorrento to Ischia, but they don't run during February.)
Ischia is a small volcanic island about 10 kilometres across, just off the coast of the Cape of Misenum, at the end of the northern arm of the Bay of Naples. The Romans called it Pithecusa or Pithecusae, a name that includes the nearby islands of Procida and Vivaria. In Metamorphoses Book 14, Ovid says that the island is named after the little yellow apes that were once its inhabitants — formerly a race of people, the Cercopes, whom Jupiter transformed into apes as punishment for their deceit and trickery. (Pliny the Elder says that the island is named after its clay deposits, but that is just the sort of thing that he might be expected to say.) Aeneas stopped on the island on the way to Cumae, according to Ovid, which is why it's also called Aenaria, a name that it has passed down to a number of thermal spas and restaurants.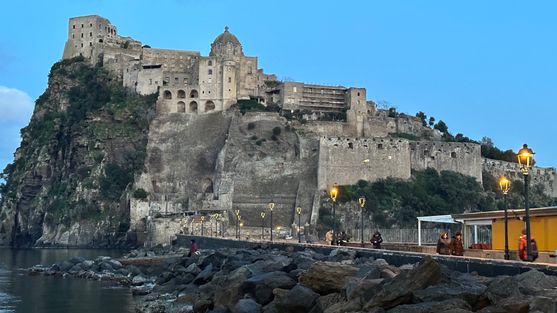 It had become apparent during my stay in Sorrento that there's nothing much open there during February. And so every night I would start wandering around at about half past five, hunting for somewhere to eat. This continued to be a problem when I arrived in Ischia. During my first hunt, I found the Castello Aragonese, pictured above, sitting atop a volcanic plug connected to Ischia by a stone bridge. When I came back to visit the castle the next day, it was closed. The thermal spas were also closed. And the restaurants were closed. The bars were open, for the locals I suppose, and so I was still able to eat bar snacks and burgers and toasted sandwiches, but I couldn't find anywhere that served the sort of Italian food that was really my main reason for coming to Italy.
Last night, my hunt was successful. I realised a few days ago that I just needed to be more patient: restaurants here don't really open for dinner until 7 PM, which is more than an hour after I usually eat dinner. So I held off, and was rewarded with the sort of food I had been imagining since I arrived on the island. It was at a restaurant by the port called Pane e Vino, whose owner told me that, while living in London as a young man, he had discovered that Australians are much more fun and relaxed than English people.
---
Anyway, the upshot of all this is that I've walked and read and relaxed and listened to podcasts, but I haven't actually done any proper sightseeing. So tomorrow I'll catch the train to Herculaneum, which isn't closed on Sundays, and then I'll work out what to do after that. But in the meantime, tonight, in the hotel restaurant, I will be eating pizza.