Among the Ruins
Thursday, 2 March 2023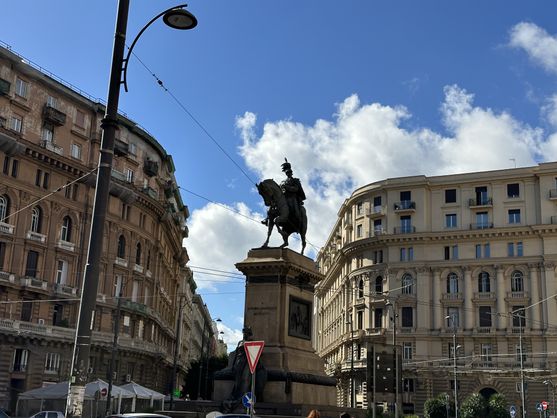 The first time I came to Naples was in 2008. I didn't stay there for long: I got off the train at Napoli Centrale, walked a few hundred metres to Napoli Piazza Garibaldi and caught a train from there straight to Sorrento. Maybe thirty minutes tops.
It was the height of the Neapolitan waste management crisis, which had started some time in the 1980s and would continue until about 2011. Pulling into Napoli Centrale, I could see hundreds of black plastic bags piled up beside the railway tracks. A beloved colleague in Grammar's history department, David Patrick, knew that I wanted to visit Pompeii and Herculaneum and had warned me to avoid Naples at all costs and had advised me to stay in Sorrento instead.
The second time in came here, it was just for a few hours. It was a rainy day in December 2017. I walked from Napoli Centrale to the National Archaeological Museum, spent a couple of hours in the museum, and then walked back again and caught the next train to Sorrento. I didn't see any black plastic bags, but it was all a bit filthy and run down, and for some reason I never really noticed that even the shabbiest parts of the city have a kind of faded glamour.
---
I'm in my hotel room in Naples now: after five nights here I will be leaving. I think I said before that Calvin had booked it for me. "Apparently it is not a good and safe area at the holiday inn," He warned me. I was dismissive: "I'll be okay. I've been to Naples before."
I really warmed to Naples the last time I came here. It was on the school's 2019 Classics Tour — the last time I travelled abroad before the pandemic. We stayed in a nice hotel not far from the monument pictured above and a short work from the historic centre of Naples: a maze of cobbled streets full of churches and bookshops and bars and restaurants. It's grimy and faded and a bit run down, but it's beautiful as well.
Vastly unlike the historic centre of Naples is the windswept and largely deserted shopping precinct that surrounds this hotel, and the train station that services it. It's got a real Chatswood-six-months-after-the-Apocalypse vibe. Take a look.
---
Anyway, I'm actually going to be sorry to leave. The hotel was nice. I did my professionally mandated trips to the ruins of Pompeii and Herculaneum and to the National Archaeological Museum, and I thoroughly enjoyed them all. And I got to wander the streets soaking up the grimy grandeur of the place. I'll be back, deo volente.