The Terran Ague
Monday, 20 March 2023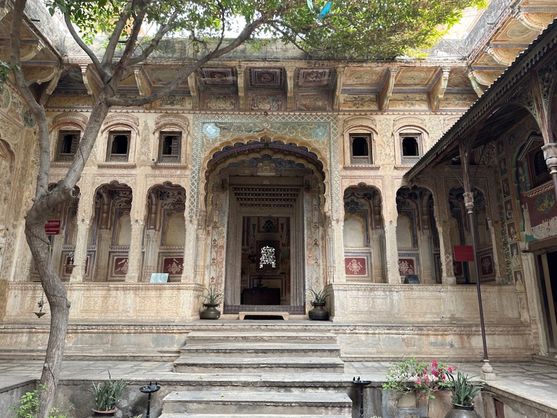 Everyone who's been into deep space has had the Terran Ague, or the three-day sweats as it's commonly known. It's a sort of a mild infection, it slightly alters the body's nucleic structure, it seems to be a metabolic reaction to space travel. — Doctor Bellfriar, Blake's 7, Series B, Episode 7, Killer
I arrived in Delhi on Saturday morning.
The flights overnight from Rome were lovely, of course, but I lost 4½ hours travelling east and the final leg was only 3 hours long, so I had had only about an hour's sleep. But, you know Calvin, it was straight to business. I had a quick shower and we were picked up from the hotel almost immediately by the tour guide, Aditya from Food Tour in Delhi.
Aditya was a funny and cheerful young man. He had been a chef, and so he was able to explain to us what we were eating and even to predict with accuracy how our taste buds would respond to different foods in different combinations. We started in Old Delhi, which is gloriously squalid and crowded, trying food from stalls and restauarants, and even a coffee house run by generations of a Jain family whose specialty was a kind of fruit sandwich with cheese, which taste like a light and delicate cake.
Six hours later, the tour had finished and we went back to our grimy hotel. I feel asleep immediately, but Calvin woke me up a couple of hours later for even more food.
You can probably tell where this is headed.
The next day, our proper tour started, which will take us from Delhi to Kolkata, via Rajasthan and the four major Buddhist pilgrimage sites. Calvin has organised it all — every night's hotel is booked, every day is accounted for, there's none of my hippie fear of foreclosing possibilities. This tour is serious business.
We met our tour guide for the day and our driver for the next three-and-a-bit weeks, and we headed off into Delhi. Another less food-oriented tour of Old Delhi, the Jama Mosque, Humayan's Tomb, the ruins of the Qutb Minar complex, and the Shri Laxmi Narayan Temple.
---
I had already had an unfortunate gastrointestinal incident before leaving the hotel that morning, and by the time the day's sightseeing was nearing its end I was increasingly, urgently keen to return to the hotel. I'll spare you any details, but I was unable to muster any enthusiasm about the Rajasthani restaurant we went to for a dinner consisting of tiny metal cups of delicious things on a giant metal tray full of even more delicious things. And by the time we got back to the hotel after that, the Terran Ague had hit me full force. I spent an unpleasantly acidic night, sweating and shivering in the bed and waking up dehydrated every couple of hours.
Naturally, Calvin had come prepared with as much gastro-stop as I could possibly want — certainly enough to get me through today's six-hour drive without any horrifying incidents.
Tonight, we're staying at the Vivaana Heritage Hotel, which is a restored nineteenth-century haveli, a merchant's house lavishly decorated with frescoes and carvings. And if I make it through dinner, there's an evening of traditional puppetry, storytelling and folk music, which I'm hoping will be tolerable. Before that, though, a nap, I think.