Interlude: Forts, Mostly
Saturday, 1 April 2023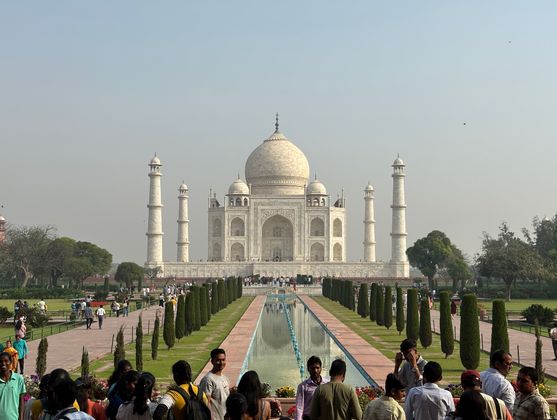 Just got back from lunch: we're hanging out in the hotel room until dinner, relaxing for a while before the onslaught tomorrow.
The hotel room is in the Radisson Lucknow City Centre, a hotel which is only a couple of decades old, but which has been really letting itself go. There's a lot of miserable dark wood panelling on every wall. The doors on Level 7 have signs indicating that it's a non-smoking floor, but judging by the smell of the corridor, they were hastily put up less than a week ago. The Samsung TV comes complete with an LG remote, there's no bath towels in the bathroom (which I discovered when I got out the shower), and the fridge doesn't work, or didn't until a nice man came to the door to fix it at about 11 o'clock last night. Oh, and it sounds like the toilet's leaking.
Anyway, we're not in Rajasthan any longer. We're in Lucknow, the capital of Uttar Pradesh, which is a state larger and a bit poorer than Rajasthan. After Udaipur we went to Jaipur, and after Jaipur we went to Agra. And after Agra, here.
Our sightseeing has continued much as before, but the pace has slowed. So, we do a long day of driving, followed by a night at the hotel, followed by a day of forts and palaces and things, followed by a second night at the hotel, followed by another long drive to the next destination. Sometimes we visit something on the way. A fort, usually.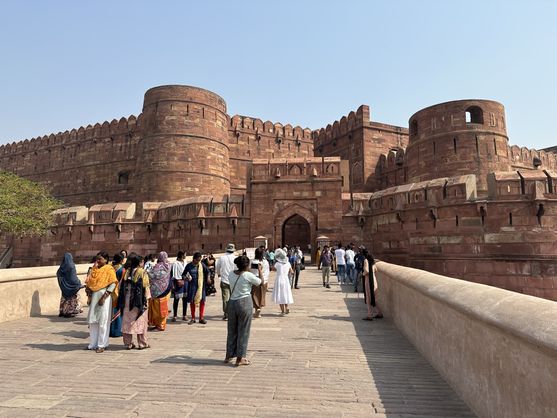 My Terran Ague, which is now under control, thank you for asking, prevented me from engaging in the sightseeing in Udaipur and Jaipur. Fortunately, though, I was able to enjoy Agra, where the Taj Mahal is to be found, but where there are also two forts to visit. The first fort is Agra Fort, not far from the Taj Mahal: it was built by the Mughal king Akbar in the sixteenth century as the capital of the empire. Before it was finished in 1573, Akbar had moved his capital to the second fort, Fatehpur Sikri, in order to be near the Sufi saint Salim, who predicted the birth of his first son Jahangir, whose son Shah Jahan would go on to build the Taj Mahal.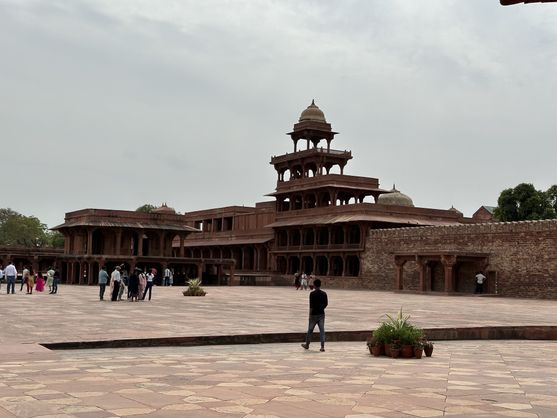 ---
Calvin complains that there have been too many forts over the last two weeks, and there's something to be said for that, but each of them has been huge and beautiful, and I would have been sorry to miss any more of them than I already did.
But basically, we're done with forts. Out for dinner tonight, and then tomorrow morning we're leaving the forts behind.
First stop: Shravasti, a pilgrimage site marking a location where the Buddha delivered many of his suttas and performed two miracles. After that, we will drive to Lumbini in Nepal, staying there the night, and then visiting the site of the Buddha's birth, at the Maya Devi Temple. Over the next week we will be visiting all four of the most important Buddhist pilgrimage sites, as well as some ancillary sites nearby.
Both Calvin and I have been looking forward to this for a long time. I'll let you know how we get on.