Sunday, 24 December 2017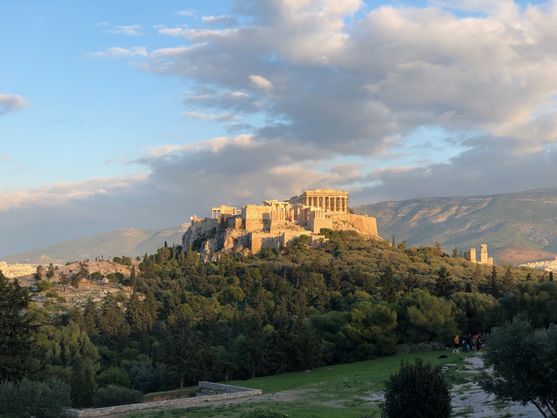 Most of my last post was written on the ferry to Patras. I had decided to spend two nights there, not because there's anything particularly cool about it, but because it the first place where I could see The Last Jedi in English. (English films are usually dubbed in Italy.) I saw the film a few hours after I arrived; I saw it again the following night.
I struggled to find anything much to do in Patras. I had some laundry and shopping to do, and I had to organise a bus ticket to Delphi. A Google search of things to do in Patras wasn't particularly promising, but it did mention a Byzantine castle on a cliff overlooking the city, not far from my hotel. I climbed up the cliff, but the castle was closed on Mondays.
The bus to Delphi left at lunchtime on Tuesday. To kill time in the morning, I tried the castle again. It was worth it. Even a nondescript Greek town can be incredibly beautiful.
---
I had already been to Delphi once, on the School Classics Tour in June. We just stayed there one night. It was fantastic though — a warm evening, lots of bars and restaurants open, a friendly little town.
I didn't really take advantage of it though. We let the boys go out for a few hours of free time, while I waited for them in the hotel bar, editing an episode of Flight Through Entirety.
This time, I stayed there for two nights. I had booked a single room in the hotel at an absurdly cheap rate, but the manager upgraded me to a double room out of sheer kindness and generosity — a room with a view over the valley, towards the sea.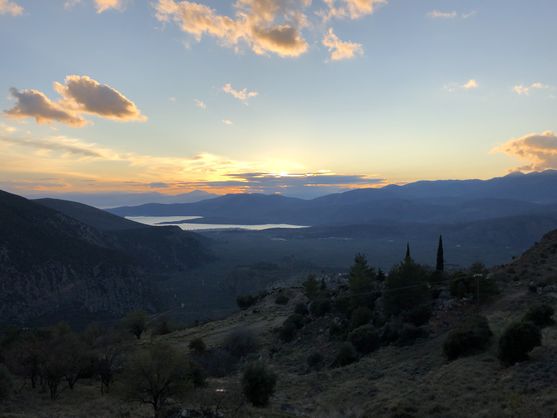 It was freezing cold, of course, and lots of the bars and restaurants were closed. But I was able to spend more time at the archaeological site, which was much less hot and crowded than it had been in June. And it was lovely to be somewhere small and quiet. I really enjoyed myself.
The morning I left, it snowed. Not in Delphi itself, where it was just raining, but on the mountains on either side. I watched the snowflakes falling from the balcony of my room.
The bus from Delphi to Athens goes further up into the mountains, through a town called Aráchova. Everything there was completely covered in snow. I've only seen snow maybe twice before, so just days before Christmas, this was magical. (I only have very crappy photos of this from the window of the bus, with a woman's head in the frame, so I'll leave this to your imagination.)
---
I arrived in Athens in the afternoon. Calvin had booked me in at the InterContinental, a much classier hotel than the ones I've been staying in for the last few weeks. You can see the Acropolis from here, and the Philopappos monument, which is on top of a hill directly opposite. It was too late to actually do anything: all the archaeological sites close at 3 or 4 PM in winter, but I walked straight to the Acropolis as soon as I had checked in. Just to gaze up at it.
For €30, you can buy a ticket to the Acropolis, which includes entry to the Theatre of Dionysus, the Ancient Agora, the Olympeion, the Roman Agora, the the Library of Hadrian, the Kerameikos, and one or two more sites. When I was here on the tour in June, the only one of these I visited was the Acropolis, so I've spent the last couple of days visiting as many of the rest of them as possible. I also made a return visit to the Acropolis Museum.
Yesterday afternoon I went for a walk before dinner, and found myself at the park containing the Philopappos monument. I don't know what it's called, to be honest, but there are lots of cool things there, including the Pnyx, where the Athenian Assembly used to meet, and the Prison of Socrates, which we're just going to say is the site of Socrates' suicide, and therefore the setting for Plato's Phaedo. That's where I took that photo of the Acropolis, just before sunset.
Now it's Christmas Eve, my last full day in Europe. (I arrived in London on 2 November, so it's been just less than two months.) Tomorrow I'm flying to Bangkok, where I'm staying just one night. Calvin is there now, but he will have left by the time I arrive. I'll catch up with him in Siem Reap, and we'll be heading off together for a tour of Angkor Wat. I'll let you know how we get on.
Merry Christmas.
Writing: I posted a thing about Star Wars: Episode VIII, which I think was a brilliant film. Don't read the post if you haven't already seen it. It's lousy with spoilers.